Do you want a custom plan?
Click on the link below to design a plan according to your needs and budget.
Order custom plan
hotel search
The Resort Thermal Santa Rosa of Complete, it offers ecological routes to his cracked visitors of cold water, swimming pools of thermal water, to know better our nature, source of beauty and natural peace

The payment of foreign currency: When the payment is in dollars it will be fastened at the rate of the respective day in which the transaction is done for which it is necessary to to consult with the official change in Colombia and / or with to the empresa Coffee Axis Tours Colombia across the e-mail info@ejecafetero.com.co where the value of the same one will be confirmed to him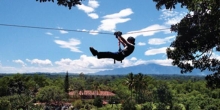 Remember moments of the infancy, feel the world of tarzán and enjoyment of this one activity in the vertical and horizontal world to the limit
Zone of dizziness and arborismo, mas of 1900mts of emotion and adrenaline, 16 platforms of control ó points of observation
Realize ascents, decreases, activity guided by professionals.
The National Park of the Coffee is a Colombian theme park placed in the municipality of Montenegro in Quindío, Colombia. He has a teleférico, an attraction of orchids animatrónicas full of color, a garden of the world coffee, a roller coaster, positions of food based on coffee, architecture folclórica Colombian, and other attractions Multiple Passport: Entry, Teleférico (Going and unlimited return), Trén of the Coffee (Going and unlimited return), (Unlimited) (Unlimited) Show of the (Unlimited) Coffee, (Unlimited) Cyclone, Roller coaster, Aquatic Mountain, Rhine (Unlimited) (Unlimited) Rhine, Panoramic Wheel, (Unlimited) Baron Rojo, (Unlimited) Carrousel, Cafeteritos (Once), Boats Chocones (Once), I Walk astride (Once), Karts (Once), Cars Chocones (Once), Karts Dobles (Once), Ship Of the (Unlimited), Rapid Coffee, Summit, Interactive Museum of the (Unlimited) Coffee, (Unlimited) Octopus, The (Unlimited) Secret of the Nature (Unlimited) Entry, 7 attractions (IT DOES NOT INCLUDE I WALK Astride)

The payment of foreign currency: When the payment is in dollars it will be fastened at the rate of the respective day in which the transaction is done for which it is necessary to to consult with the official change in Colombia and / or with to the empresa Coffee Axis Tours Colombia across the e-mail info@ejecafetero.com.co where the value of the same one will be confirmed to him
Prices for person
Discover the Coffee Triangle zone